The skill development program focuses on the provision of need based skills training to marginalized and unemployed youth in Pakistan. The skill development program ensured the quality trainings of targeted population through its Institute. The institute is also in liaison with Zarka Internationals, a leading recruitment agency for job placement of these trained youth in overseas.
PAK EMIRATES POLYTECHNIC INSTITUTE AND TRADE TEST CENTRE RAWALPINDI
Established in 2008, the institute is providing skill development trainings to marginalized communities across Pakistan. Under this paradigm shift, the skill development programmes are designed and delivered by adopting a systematic approach, focusing on better employability of the trainees with strong market linkages.

The institute is providing quality trainings to the youth in technical and vocational trades. The curriculum is designed to meet the national and international standard in skill development. The institute is registered with Punjab Technical Board Lahore and accredited by National Vocational and Technical Training Commission Pakistan (NAVTTC).

The institute is spread over an area of 5000 sqr feet, state of the art training rooms, qualified and well trained staff and well equipped practical workshops.
Skill for Job Funded
Zia Siddique Foundation has been implementing SKILL FOR JOB project funded by Punjab Skill Development Fund (PSDF) since 2011 through Pak Emirates Polytechnic Institute and Trade Test centre Rawalpindi. The initiative focuses on those local trades which will open up opportunities for self-employment, informal contractual employment/piece work and small/micro-businesses. Under this initiative vocational and technical training has been providing to unemployed poor youth in poverty stricken areas of Punjab.
Pakistan Bait-Ul-Mall
ZSF implemented the project with financial assistance of Pakistan Bait-ul-Mall. Under the project 659 students were trained in different trades such as plumbing, electrician, office automation, civil surveyor safety officer and shuttering and steel fixture etc. . The striking feature of the project was to train 50 deaf and dumb boys and girls. The objective was also to make provision for the removal of discriminatory barriers through universal access by ensuring that persons with disabilities are not segregated from main stream of social activities.
FATA Dev. Authority
THE Zia Siddique Foundation in collaboration with FATA-Development Authority has initiated a project to increase the prospect of 242 youth aged 18-35 through providing them with technical and vocational training in different trades. The objective behind the initiative was to improve employability and livelihood opportunities, reduce poverty and promote peace for sustainable development of youth to restore normalcy in the lives of youth. ZSF through it's strategic partner Zarqa Intl we facilitated for job opportunities in overseas.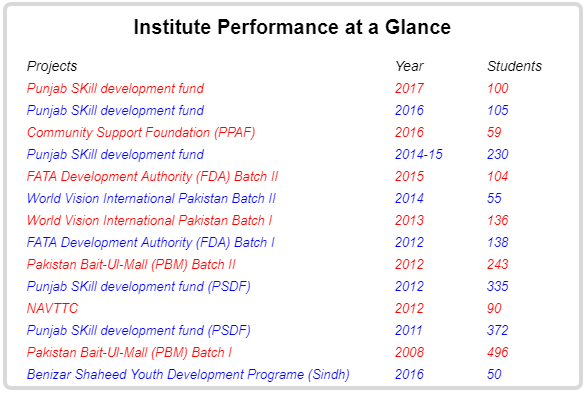 For Donation in Cash
Account Title: Zia Siddique Foundation
Account Number: 60289-20301-714-107861
IBAN: PK48MPBL0289067140107861
Habib Metropolitan Bank
Bank Road Saddar Branch Rawalpindi
For In-Kind Donation
Pak Emirates Polytechnic Institute Near Kohistan
Bus Terminal Pir Wadhai IJP Road,
Cantonment Rawalpindi
Contact: +9251 5465863 - 5465864
Email:zsfoundation@yahoo.com
www.zsfoundation.com